Feature Article from VAPOR Sponsor, Konica Minolta Healthcare Americas, Inc.

Benefits of regional anesthesia during a pandemic and opioid epidemic
As hospitals and surgery centers navigate to resume elective and non-urgent surgical procedure volumes, there is heightened concern that the continued use of opioids for pain management before, during and after a procedure may perpetuate the current rise in opioid-related deaths. Similarly, the use of general anesthesia potentially exposes physicians and staff to viral contamination when intubating a patient, releasing aerosols and droplets, which is a primary mode of transmission of COVID-19.
Although there is no one simple solution to address the public health issues of the opioid epidemic along with the COVID-19 pandemic, there is a technique that can reduce the likelihood of both addiction and viral transmission associated with surgical procedures: regional anesthesia. Additionally, regional anesthesia provides an option for perioperative pain management in an era of drug and equipment shortages – a ventilator may be needed post-op after surgeries that require general anesthesia if the patient is unable to be safely weaned from mechanical ventilation.
J. Douglas Jaffe, DO, an anesthesiologist specializing in regional anesthesia and acute pain management, says, "There is a substantial benefit to reducing the number of aerosol-generating procedures, such as intubation and extubation, when utilizing regional techniques for perioperative management in lieu of a general anesthetic. We have also seen an increase in the acceptance, by both surgeons and patients, of spinal anesthesia for the same reasons."
Regional anesthesia is a safe and effective type of pain management that doesn't involve the potential side effects and complications of general anesthesia and sedation. Neuman, et al, compared the effectiveness of regional versus general anesthesia in adults with hip fractures undergoing surgery and found that regional anesthesia reduced pulmonary complications and death by 25-30 percent(1). In total hip or knee arthroplasty, Memtsoudis, et al, reported that patients with nonosteoarthritic surgical indication and receiving general anesthesia required critical care services more frequently services and experienced more complications, received more blood transfusions and mechanical ventilation, had higher mortality rates, and incurred higher costs compared to those with neuraxial anesthesia(2). Lu, et al, also found that the use of spinal anesthesia in patients undergoing unicompartmental knee arthroplasty led to a decrease in adverse events, OR time and facilitated patient discharge(3).
Ultrasound guidance is instrumental in the growing adoption of regional anesthesia and analgesia by many anesthesiologists. Studies suggest increased success, decreased complication rates, reduced time and greater patient comfort in ultrasound guided peripheral nerve block injections(4-7). Ultrasound may also further advance approaches to administering new blocks(8) and by enabling the anesthesiologist to visualize the injectate, as well as reducing the risk of local anesthetic systemic toxicity(9).
Dr. Jaffe has also seen a marked increase in the utilization of ultrasound at the point of care for use in regional anesthesia and analgesia.
"Espousing the proven benefits of the use of ultrasound, which include reduced risk of vascular trespass and improved patient comfort and tolerance, otherwise reluctant patients who would have declined a regional technique are increasingly accepting," Dr. Jaffe explains. "Our surgical colleagues are also mindful of the benefits, both the avoidance of aerosolizing and patient satisfaction with reduced pain and lower risk of postoperative nausea and vomiting. Ultrasound guided regional anesthesia techniques are in more demand.  In fact, it's often difficult to keep up with all the buy-in from new 'customers'."
Using ultrasound, the anesthesiologist can locate important anatomy, such as the median nerve, ulnar nerve, radial nerve, etc., and visualize the needle as it enters the field of view, enters the nerve to deliver the block and visualize the spread of the local anesthetic inside the region of interest. For example, if the spread of the local anesthesia is not seen inside a sheath, such as the brachial plexus, then the anesthesiologist has the information they need to immediately abandon the injection as the local anesthetic could be intravascular.
"Ultrasound is rapidly becoming one of the more useful imaging modalities to assist with neuraxial techniques. Indeed the more efficient the procedure, the less time spent in close proximity to the patient's airway (or the avoidance of airway manipulation entirely), there is likely a reduced risk of viral transmission to providers," Dr. Jaffe says.
"With the uptick in utilization of regional techniques for analgesia and anesthesia, we have seen a parallel increase in the adoption of emerging regional techniques despite not quite yet achieving the volume of published research as compared to more classic approaches to regional procedures," Dr. Jaffe adds. "The ultrasound guided quadratus lumborum block and PENG block are two in particular that have seen increases in volume as a result of requests from our surgical colleagues."
So which ultrasound system features are critical when using it for regional anesthesia?
Needle visualization is clearly key, but not all systems provide the same quality of needle visibility. Algorithms that utilize both in-plane and out-of-plane methods to improve needle visibility (both the tip and the shaft), especially in steep angle approaches, enable increased accuracy in needle placement.
Superior image quality that enhances signal penetration, improves resolution and increases color flow sensitivity allows for detailed tissue differentiation and detection of small structures. An ultrasound probe that offers a trapezoid view, which extends the field of view, high sensitivity for scanning both deep and superficial structures, and provides a  small footprint to reach difficult to access areas and maneuver around the area of interest facilitates a more efficient regional anesthesia injection.
Additional features that promote hands-free operation, such as voice-activated controls and foot pedals, can be crucial during interventions such as administering regional anesthesia. Ease of use is also important to allow the anesthesiologist to focus on the patient and not the machine.
The SONIMAGE® HS1 from Konica Minolta Healthcare meets all of these requirements for rapid and confident ultrasound guided regional anesthesia and pain management procedures.
Regional anesthesia delivers numerous benefits to patients and staff compared to general anesthesia, including reduced need for opioids, no airway manipulation that could release viral aerosols, fewer complications and adverse events leading to less dependence on critical care services for patients, and faster time to discharge. Ultrasound guidance is key to successful implementation of a regional anesthesia service. The ultrasound system should deliver excellent needle visualization and image quality for accurate placement, a high sensitivity probe that is easily maneuvered and provides a trapezoid view, a portable system to facilitate bedside use, and features that allow for hands-free operation during the procedure.
References
Neuman MD, Silber JH, Elkassabany NM, Ludwig JM, Fleisher LA. Comparative effectiveness of regional versus general anesthesia for hip fracture surgery in adults. Anesthesiology. 2012 Jul;117(1):72-92. 
Memtsoudis SG, Sun X, Chiu YL, et al. Utilization of critical care services among patients undergoing total hip and knee arthroplasty: epidemiology and risk factors. Anesthesiology. 2012;117(1):107-116.
Lu Y, Cregar WM, Goodloe JB, Khazi Z, Forsythe B, Gerlinger TL. General Anesthesia Leads to Increased Adverse Events Compared With Spinal Anesthesia in Patients Undergoing Unicompartmental Knee Arthroplasty. J Arthroplasty. 2020 Aug;35(8):2002-2008.
Perlas A, Chan VW, Simons M. Brachial plexus examination and localization using ultrasound and electrical stimulation: a volunteer study. Anesthesiology. 2003;99(2):429-435.
Brull R, Lupu M, Perlas A, Chan VW, McCartney CJ. Compared with dual nerve stimulation, ultrasound guidance shortens the time for infraclavicular block performance. Can J Anaesth. 2009;56(11): 812-818.
Tedore TR, YaDeau JT, Maalouf DB, et al. Comparison of the transarterial axillary block and the ultrasound-guided infraclavicular block for the upper extremity surgery: a prospective randomized trial. Reg Anesth Pain Med. 2009;34(4):361-365.
Martínez Naves A, de la Tabla González RO. Ultrasound-guided technique allowed early detection of intravascular injection during an infraclavicular brachial plexus block. Acta Anaesthesiol Scand. 2009;53(7):968-970.
Horn JL, Pitsch T, Salinas F, et al. Anatomic basis to ultrasound- guided approach for saphenous nerve blockade. Reg Anesth Pain Med. 2009:34(5):486-489.
https://www.nysora.com/foundations-of-regional-anesthesia/equipment/equipment-regional-anesthesia/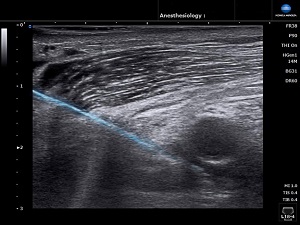 Caption: Simple Needle Visualization on the SONIMAGE® HS1 Portable Ultrasound System incorporates an advanced algorithm that improves needle visibility (blue line) for increased accuracy in needle placement during regional anesthesia and analgesia injections.