Student Research
Research opportunities can help medical students gain exposure to specialties, mentors, training and can build an impressive CV when it's time to go through The Match and transition to a residency program. The Foundation for Anesthesia Education and Research is dedicated to developing the next generation of physician-scientists in anesthesiology. FAER offers medical student fellowships, resident scholar program, mentor academies and more. FAER's Medical Student Anesthesia Research Fellowships (MSARF) program provides funding to support medical students over a summer in focusing on anesthesiology research, training in scientific methods and techniques, and learning how to incorporate research into a medical career. The American Osteopathic Foundation (AOF) focus on research is growing as the osteopathic community continues to explore innovative research that will change the course of modern medicine. Take advantage of the student research grant opportunities such as the AOF Burnett Osteopathic Student Researcher Grant and the AOF Rocovich Research Grant.
Read more about how Kaye Dandrea, OMS-II landed an anesthesia research fellowship through MSARF and get ready for your own application!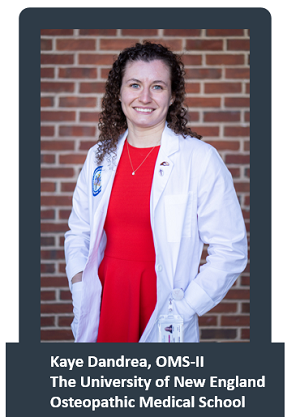 "The FAER MSARF program involves a combination of clinical and research experience. The mentor I have been matched with, Dr. Xie, has published many studies on accelerating emergence from anesthesia, in both animals and humans. Current projects involve further investigating these ideas with the hope of minimal side effects as well. In addition, I will be participating in a clinical setting throughout the program. I very much enjoy research and can see it being a part of my career as a future physician. This experience combines the two and will help me understand what it is like day-to-day as a physician and researcher." - Kaye Dandrea

I discovered this fellowship opportunity after a second year student at my university (UNECOM), Natalie Koons, suggested that I look into it. Natalie was the president of our anesthesia club at the time and she has been a wonderful friend as well as second year mentor. She was accepted into the program the previous year and greatly enjoyed it. Following her advice, I looked into the program further and it appeared to be a great opportunity!

I started my application process by initially investigating the program. I looked into the application requirements, general program details, and sites/mentor descriptions. Next, I reached out to one of my current professors as well as a past mentor in order to obtain quality recommendation letters. When selecting locations to rank, I tried to find a good combination of sites with projects I am interested in as well as locations that are interesting to me. I love change and trying new things so, I ranked Chicago among other locations. After submitting my application, I was unsure if I had what it took to be accepted into the program. However, in March I was awarded a spot in the program at the University of Chicago and was overjoyed! 

In general, it is great to establish positive, genuine, and long-term relationships with a mentor(s). When I applied to this program, I had some wonderful mentors that were more than happy to advocate for me though recommendation letters. Covid placed a bit of a twist on developing relationships with current professors, however. Most of our courses were virtual and it has been hard to get to know my professors. But, I was able to spend a long time in anatomy lab with my anatomy instructor (UNECOM's anatomy course lasts the entire year). Knowing that I had spent a great deal of time with him as well as my previous mentor (prior to medical school) helped me feel confident in my letter requests. I would suggest other medical students find mentors and cultivate relationships with them. Overall, medicine is a team sport and having good mentors throughout your journey is invaluable!     

Prior to matriculating into medical school, I was employed as a research technician at Massachusetts General Hospital within the Department of Anesthesia, Critical Care, and Pain Medicine. Through rodent studies, we studied the respiratory and other physiological effects of opioids. Being able to participate in anesthesia research at such a wonderful hospital was a dream come true. MassGeneral was the site of the first successful use of  "modern" anesthesia. I am extremely grateful to have been able to learn from such amazing researchers in a place with such a rich history in anesthesia.